Welcome to the Dutch Hotel Concierges page.
My name is Ron Stoevelaar and I am working in the remarkable Pulitzer on one of the beautiful 'UNESCO world heritage' canals.
I started the profession of concierge in 1990 and since October 2016 I am the proud President of the Dutch Golden Keys.
Our society exists since 1957 and from that moment the Dutch chapter started to visit and meet international colleagues. We have 57 members and they all share the passion of assisting guests by delivering exceptional service and unforgettable experiences in our beautiful country, the Netherlands.
Because almost all Les Clefs d' Or members work in hotels in Amsterdam, we meet each other often and discuss developments in the hospitality industry. Furthermore, every month we have 'a get together' network meeting organized by one of our donators.
Additionally, once a year we organize an educational for our members with interesting speakers from the hospitality industry to improve the quality of our work. Finally, some of our board members visit hotel schools and by giving guest lectures they will inform the students about the profession hotel concierge.
Besides being active in the cities we are represented in, do not forgot to pay a visit to cities such as Delft or Haarlem. Each city has its unique highlights and we are looking forward to tell you more about it. If you are curious, do not hesitate to reach out to us, since it would be our pleasure to assist you in making your stay in the Netherlands an enjoyable one. On the International congresses you will recognize 'the Dutchies' dressed in tailor made club custome with our logo and….. always with a smile.
Ron Stoevelaar
​Voorzitter / President Les Clefs d'Or
​The Netherlands​
Foundation Date
1954
Section President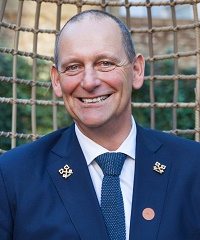 Ron Stoevelaar
President / Chef Concierge
Pulitzer Hotel
Section Contact Details
Postbus 10571
1001 EM Amsterdam
Holland
Phone : +31 205564827